Cabernet – Enate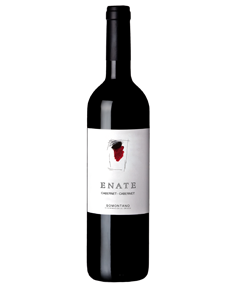 A blend of the best Cabernets from Enate vines. Its serious, Atlantic touch is combined with a sweet-talking, moreish, Mediterranean character proving that Somontano has great, elegant Cabernets.
Very expressive, intense nose in which the black fruit is surrounded with an atmosphere of fresh liquor. Together with these, the balsamic, phenolic and spicy notes of the Cabernet are interwoven with the toasty, creamy and chocolaty touches provided by the new barrels. A dense, fleshy palate with ripe, unctuous tannins heralding excellent capacity for aging in the bottle. Long, enveloping and very prolonged finish.
Grape Varieties: Cabernet Sauvignon from a selection of vineyards in our Barraón and Salas Bajas estates.
Vinification:  The cabernet harvested for the production of this wine arrived at the winery in optimal condition, with beautiful colour, excellent acidity and good levels of sugar. The harvest finished on 15th September. Fermentation took place in stainless steel tanks at a temperature of 24 ºC and maceration with the skins lasted for a total of three weeks. The wine was then devatted into new French oak barrels when it underwent malolactic fermentation and it was left to age in the same barrels for 18 months. Stabilisation took place in tank before bottling."
Tasting Note: Intense and expressive on the nose, with black fruit emerging from a background of fresh licorosidad. Balsamic, phenolic and spicy notes mingle beautifully with toasted aromas that hint at cream and chocolate afforde by the new oak. Rich and and meaty on the palate with mouth-fillingly mature tannins that promise excellent capacity for ageing in bottle. Pleasant finish that lingers long after drinking.
Service: Serve between 16-18 °C. Ideal with smoked food, casseroles and red meat. As the wine received minimum filtration, there is a possibility that it will present some bitartrate sediment in the bottle. This is a naturally occurring phenomenon and is a guarantee that the wine has not been subjected to physical or chemical treatments. Upon decanting the wine slowly, the sediment will remain in the bottle and will not affect the taste experience in any
way.
Awards:
2011 GOLD International Wine Championship, Canada
2010 SILVER World Championship, Brussels
2010 GOLD International Wine Championship, Canada
2010 GOLD Mundus Vini, Germany
2010 100 Wines of the Year 2015 from the World Association of Wine Writers and Journalists, WAWWJ