Organic Maple Sugar – 250g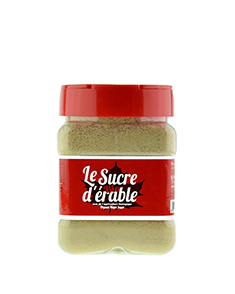 Will surely brighten your day!
This organic maple butter is a true delicacy from the early morning until the evening. It is made from organic maple syrup and allows you to discover a true maple delicacy, rich in vitamins and minerals.
It is boiled at high temperatures, then cooled and mixed until crystallization occurs. This is how millions of tiny sugar crystals are created. Because it's made from 100% pure organic maple syrup, it has the same nutritional properties*.
This healthy Organic Maple Sugar is a natural replacement for other kinds of sugars and is easy to use when preparing meals and desserts. It is also excellent in your morning coffee, with cereal or on pastries.
It's simply the NATURAL CHOICE!
*Note: The row material, the organic maple syrup contains antioxidants comparable to the amount found in superfoods, like banana and broccoli and is an excellent source of manganese, riboflavin and zinc. Plus, magnesium, calcium and potassium make this inimitable sweetener even more healthful.